225 Foil Star Wars Mtg Type 4 Cube Deck Foil Emrakul Kokusho Damnation Liliana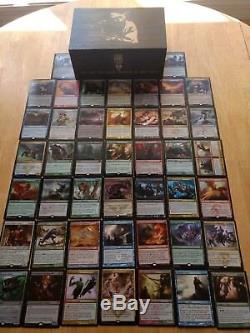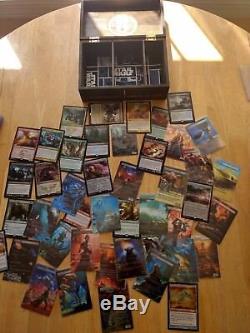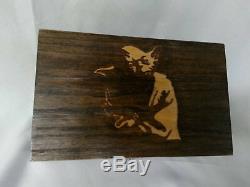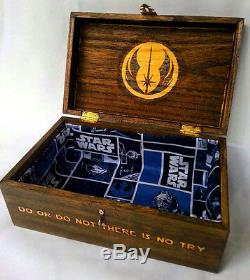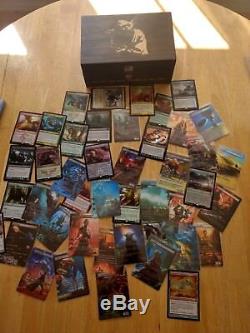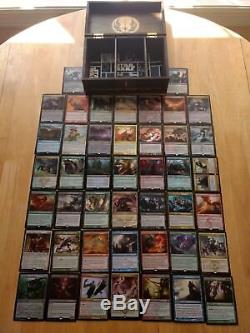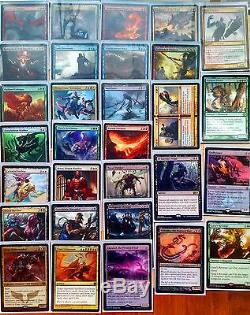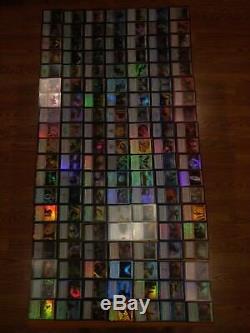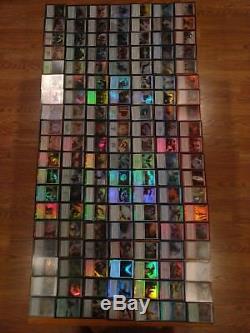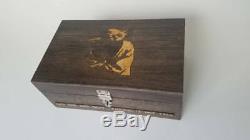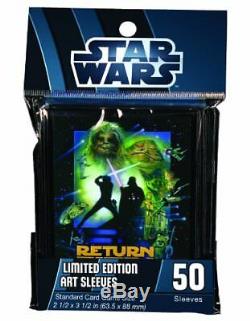 A very unique item for both the Magic the Gathering & Star Wars fan alike!! 225 FOIL MTG TOWER OF POWER / TYPE 4 / CUBE STAR WARS THEMED DECK You will receive everything shown in ALL the pictures!! Broken down, this deck includes. 1 Star Wars themed box to house your 225 card completely FOIL deck. This wood box has the wood-burned image of Master Yoda in a silhouette relief on the lid. Its colorized using natural wood stain.
On the front of the box is the phrase "Do or do not there is no try" in a Star Wars font. The interior is lined with a padded felt and fabric, with the Jedi symbol beneath the lid. The box itself is 8.5 in L x 5.25 in W and 3.5 in Height. There is a silver clasp affixed to the front. All 225 FOIL cards are sleeved in a Return of the Jedi themed card sleeve.
44 FOIL unaltered MTG Rares/Mythics (Please see pictures for complete list). Some of the FOIL MTG Rares/Mythics cards include. FOIL Emrakul, the Promised End. FOIL Kokusho, the Evening Star. FOIL In Garruk's Wake. 58 FOIL unaltered MTG Uncommons (Please see pictures for complete list).
99 FOIL unaltered MTG Commons (Please see pictures for complete list). 24 FOIL Star Wars Themed CUSTOM ALTERED ALTERNATE ART MTG cards (Please see pictures for complete list). Some of the Star Wars themed altered art cards include. Please note the following regarding the FOIL Star Wars themed custom altered art cards. The ink materials used on these Custom Altered Alternate Art cards SLIGHTLY increases the thickness of the card.
These cards are primary for use in Tower of Power, Cube, Commander, EDH, and casual play. Please consult the head official of any event where you would wish to use these cards. Please remember to view all the images. If you have questions please feel free to ask.
Please remember that the FOIL Custom Alternative Art cards should be used mostly for casual play (to pimp out your deck) in either a non-tournament setting, an EDH Commander deck , or a Type 4 / Tower of Power deck. P lease remember that in most cases the FOIL Custom Alternative Art cards are playable in a DCI sanctioned tournament IF you have an unaltered version of the MTG card in your possession (Speak to a head judge for exact restrictions). If you have any questions or concerns, please feel free to contact me to discuss. So you might be asking yourself... TOWER OF POWER / TYPE 4 or CUBE formats? There are many links online that describe each format. However, I will say that I believe the most fun you will have with this deck is the.
TOWER OF POWER / TYPE 4 format. It is a quick and easy to set up format and a ton of fun!
Some even call it Type Fun! How is it different from a typical MTG format?
The rules can vary, but here is a list of rules that I have found to be very fun! Each player (this is a multiple player format) starts with 5 cards a piece.
All players share and interact with the same shared deck and graveyard. Normal starting life total of 20 life per player.
Each player may only play one spell per turn. (All players have infinite mana in their mana pools). If you play a spell during your turn, you can still play one spell during an opponents' turn since it is a different turn. Exceptions to the "only one spell per turn" rule include. If you are able to play a spell for a converted mana cost LESS than the actual converted mana cost of the spell. Bringer of the Red Dawn is a good example of this exception. A spell like this is usually said to have easy cast. If you are able to use a land, creature, artifact, or other means to pump mana into casting a spell that shares a color with that spell. Example: Llanowar Elves is tapped to add green mana to your infinate mana pool. You can then use that green mana to cast Gaea's Revenge. Since you "easy cast" that spell, you will still be able to play your one spell for that turn. If a card has an activated ability, you can only use that ability once a turn unless it has a finite type cost associated with the ability.
Example: Centaur Glade's ability can only be used once a turn (but can be used once during each of your opponent's turns as well). Example: Book of Rass's ability can be used more than once a turn since "Pay 2 life" is part of the cost of the ability. For added "Fun", you can use this house rule: Planeswalker's abilities can also be used once a turn and/or at instant speed! NOTE: The custom altered alternate art cards are hand made, and although every effort is made to make this item as perfect as possible, there may be some minor flaws. Please contact to discuss if you discover an issue with the quality of this product that is unacceptable with you.
The item "225 FOIL STAR WARS MTG TYPE 4 CUBE DECK FOIL EMRAKUL KOKUSHO DAMNATION LILIANA" is in sale since Tuesday, October 1, 2019. This item is in the category "Toys & Hobbies\Collectible Card Games\Magic\ The Gathering\MTG Individual Cards". The seller is "avacynmetal" and is located in Franklin Park, New Jersey. This item can be shipped worldwide.

---