Magic Card Collection Over 2000+++ Cards Includes Foils Rares Uncommons Myth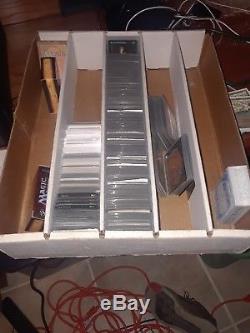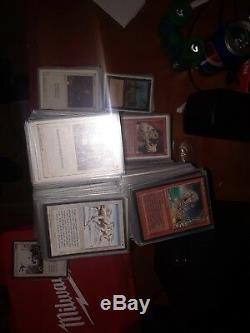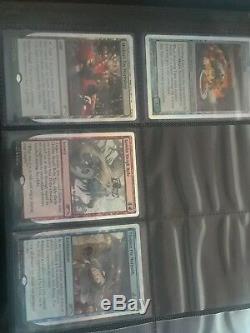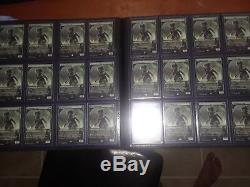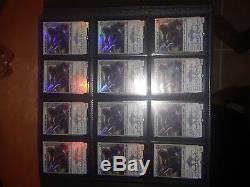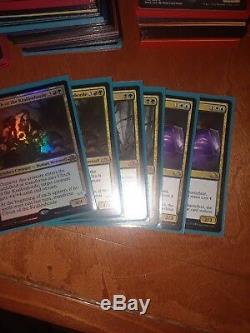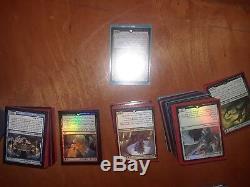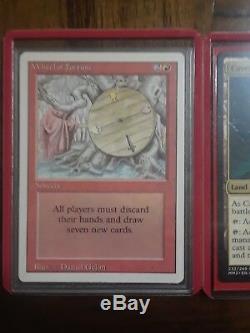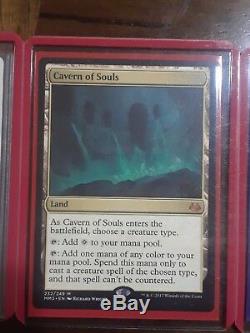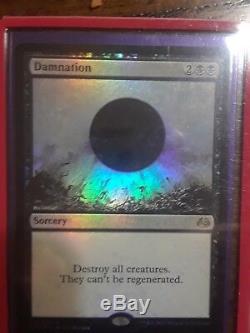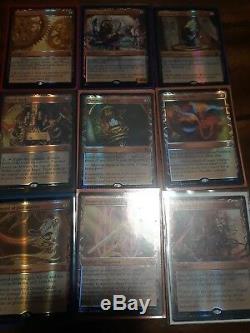 What you see in the pictures and on this list is what is for sale. I'm throwing all my cards. All cards are Near mint and sleeved. 1x From the Vault: Lore - Box Set 1x Acidic Slime Friday Night Magic 1x Ancestral Mask Eternal Masters 1x Argothian Enchantress Eternal Masters 2x Arlinn Kord Shadows over Innistrad 1x Athreos, God of Passage Journey into Nyx 2x Basilisk Collar Modern Masters 2017 Edition 1x Cavern of Souls Modern Masters 2017 Edition 1x Champion's Helm Masterpiece Series: Kaladesh Inventions Foil 1x Chromatic Lantern Masterpiece Series: Kaladesh Inventions Foil 1x Craterhoof Behemoth Modern Masters 2017 Edition 1x Dack Fayden Eternal Masters Foil 1x Damnation Modern Masters 2017 Edition Foil 1x Darksteel Forge Magic 2014 Core Set 3x Death's Shadow Modern Masters 2017 Edition 1x Death's Shadow Modern Masters 2017 Edition Foil 6x Domri Rade Modern Masters 2017 Edition 1x Domri Rade Modern Masters 2017 Edition Foil 1x Door of Destinies Magic 2014 Core Set 4x Dovin Baan Kaladesh 1x Duplicant Eternal Masters Foil 2x Eldritch Evolution Eldritch Moon 1x Elvish Archdruid Magic 2012 1x Emrakul, the Promised End Eldritch Moon 1x Erebos, God of the Dead Theros 1x Fatal Push Aether Revolt 1x Gilded Lotus Magic 2013 1x Golgari Grave-Troll Duel Decks: Izzet vs.
Golgari 1x Grafdigger's Cage Dark Ascension 1x Gravecrawler Dark Ascension 1x Grimoire of the Dead Innistrad 1x Grindstone Masterpiece Series: Kaladesh Inventions Foil 1x Gyre Sage Gatecrash 1x Heritage Druid Eternal Masters 3x Heroic Intervention Aether Revolt 2x Iroas, God of Victory Commander 2016 2x Isochron Scepter Eternal Masters 1x Liliana of the Veil Modern Masters 2017 Edition 1x Mana Confluence Journey into Nyx 4x Metallic Mimic Aether Revolt 1x Mikaeus, the Unhallowed Dark Ascension 1x Nahiri, the Harbinger Shadows over Innistrad 1x Nimble Mongoose Eternal Masters Foil 1x Nylea, God of the Hunt Theros 1x Ob Nixilis Reignited Battle for Zendikar 1x Pack Rat Return to Ravnica 1x Painter's Servant Masterpiece Series: Kaladesh Inventions Foil 2x Panharmonicon Kaladesh 1x Paradox Engine Aether Revolt 2x Parallel Lives Innistrad 1x Path to Exile Modern Masters Foil 1x Phantom Monster Eternal Masters 3x Planar Bridge Aether Revolt 1x Polukranos, World Eater Theros Foil 1x Predator Ooze Dark Ascension 1x Predator Ooze Dark Ascension Foil 1x Primal Command Modern Masters 2017 Edition Foil 1x Purphoros, God of the Forge Theros 2x Regal Force Eternal Masters 1x Regal Force Eventide 1x Relic of Progenitus Eternal Masters 5x Saheeli Rai Kaladesh 1x Scavenging Ooze Magic 2014 Core Set 1x Scroll Rack Masterpiece Series: Kaladesh Inventions Foil 1x Sculpting Steel Masterpiece Series: Kaladesh Inventions Foil 1x Sensei's Divining Top Eternal Masters 2x Sinkhole Eternal Masters 5x Smuggler's Copter Kaladesh 1x Stuffy Doll Magic 2013 1x Sword of Fire and Ice Masterpiece Series: Kaladesh Inventions Foil 1x Sword of War and Peace Masterpiece Series: Kaladesh Inventions Foil 2x Sylvan Caryatid Theros 2x Tamiyo, Field Researcher Eldritch Moon 1x Thassa, God of the Sea Theros Foil 1x Thelonite Hermit Time Spiral Foil 1x Thousand-Year Elixir Lorwyn 2x Thragtusk Magic 2013 1x Tireless Tracker Shadows over Innistrad 1x Traverse the Ulvenwald Shadows over Innistrad 3x Tree of Perdition Eldritch Moon 2x Ulvenwald Hydra Shadows over Innistrad 1x Vedalken Shackles Masterpiece Series: Kaladesh Inventions Foil 1x Venser's Journal Scars of Mirrodin 1x Verdurous Gearhulk Kaladesh 1x Vorapede Dark Ascension 1x Vorapede Dark Ascension Foil 1x Wheel of Fortune Revised Edition 1x Witchstalker Magic 2014 Core Set Foil 4x Xenagos, the Reveler Theros 1x Abrupt Decay Modern Masters 2017 Edition 2x Aethermage's Touch Modern Masters 2017 Edition 1x Always Watching Shadows over Innistrad Foil 4x Angel of Invention Kaladesh 2x Angel of Jubilation Avacyn Restored 1x Angelic Overseer Innistrad 1x Arcanis the Omnipotent Eternal Masters Foil 2x Armadillo Cloak Eternal Masters 1x Avacyn's Judgment Shadows over Innistrad Foil 10x Banisher Priest Promotional: Non-Release Foil 6x Baral's Expertise Aether Revolt 4x Baral, Chief of Compliance Aether Revolt 1x Blessed Alliance Eldritch Moon 1x Bloodbraid Elf Eternal Masters 1x Bonescythe Sliver Magic 2014 Core Set 2x Boros Reckoner Modern Masters 2017 Edition 1x Brago, King Eternal Conspiracy 2x Brainstorm Eternal Masters 1x Broodmate Dragon Modern Masters 2017 Edition 2x Bruna, the Fading Light Eldritch Moon 2x Cackling Counterpart Modern Masters 2017 Edition 1x Cataclysmic Gearhulk Kaladesh 8x Chief Engineer Magic Game Day Cards 2x Counterspell Eternal Masters Foil 1x Crackling Doom Khans of Tarkir 1x Cruel Ultimatum Modern Masters 2017 Edition 1x Crush of Tentacles Oath of the Gatewatch 2x Deadbridge Chant Dragon's Maze 3x Deadeye Navigator Modern Masters 2017 Edition 1x Deadeye Navigator Modern Masters 2017 Edition Foil 2x Deathrite Shaman Eternal Masters 6x Declaration in Stone Shadows over Innistrad 1x Delver of Secrets Innistrad Foil 2x Deploy the Gatewatch Eldritch Moon 8x Dictate of Kruphix Magic Game Day Cards 5x Disallow Aether Revolt 1x Eerie Interlude Shadows over Innistrad 1x Eidolon of Countless Battles Born of the Gods 6x Elvish Mystic Friday Night Magic 1x Enlightened Tutor Eternal Masters 2x Entreat the Angels Avacyn Restored 1x Entreat the Angels Modern Masters 2017 Edition 1x Evil Twin Innistrad Foil 1x Evil Twin Modern Masters 2017 Edition 3x Experiment One Friday Night Magic 1x Exquisite Archangel Aether Revolt 1x Fact or Fiction Eternal Masters 1x Fated Retribution Born of the Gods 1x Fiery Justice Modern Masters 2017 Edition 1x Fiery Justice Modern Masters 2017 Edition Foil 1x Fleecemane Lion Theros 2x Gamble Eternal Masters 1x Giant Solifuge Eternal Masters 3x Gifts Ungiven Modern Masters 2017 Edition 2x Gisela, the Broken Blade Eldritch Moon 9x Goblin Dark-Dwellers Media Inserts 1x Goblin Dark-Dwellers Oath of the Gatewatch Foil 8x Goblin Rabblemaster Media Inserts 1x Goblin Trenches Eternal Masters 2x Godsend Journey into Nyx 1x Greenbelt Rampager Aether Revolt 2x Grim Flayer Eldritch Moon 1x Grimgrin, Corpse-Born Innistrad 1x Huntmaster of the Fells Dark Ascension 2x Hydroblast Eternal Masters Foil 1x Imprisoned in the Moon Eldritch Moon 4x Indomitable Creativity Aether Revolt 1x Invocation of Saint Traft Shadows over Innistrad 1x Jareth, Leonine Titan Eternal Masters 6x Jori En, Ruin Diver Magic Game Day Cards 4x Kari Zev's Expertise Aether Revolt 6x Kari Zev, Skyship Raider Aether Revolt 1x Karmic Guide Eternal Masters 1x Knight of the Reliquary Duel Decks: Knights vs. Dragons Foil 2x Lightning Runner Aether Revolt 1x Magister Sphinx Conflux Foil 1x Master Biomancer Gatecrash 2x Mausoleum Wanderer Eldritch Moon 3x Mechanized Production Aether Revolt 1x Mentor of the Meek Innistrad Foil 2x Metallurgic Summonings Kaladesh 4x Mystical Tutor Eternal Masters 2x Niv-Mizzet, Dracogenius Modern Masters 2017 Edition 1x Oath of Jace Oath of the Gatewatch Foil 2x Obzedat, Ghost Council Modern Masters 2017 Edition 3x Phantasmal Image Modern Masters 2017 Edition 2x Primal Command Modern Masters 2017 Edition 1x Prized Amalgam Shadows over Innistrad 1x Pyroblast Eternal Masters Foil 2x Pyromancer Ascension Modern Masters 2017 Edition 2x Ranger of Eos Modern Masters 2017 Edition 8x Rattlechains Shadows over Innistrad 26x Reclamation Sage Magic Game Day Cards 1x Rest in Peace Return to Ravnica 1x Restoration Angel Avacyn Restored Foil 3x Rishkar, Peema Renegade Aether Revolt 2x Sage of Hours Journey into Nyx 7x Selfless Spirit Eldritch Moon 1x Serra Avenger Magic 2013 Foil 1x Shaman of the Pack Eternal Masters 2x Shardless Agent Eternal Masters 2x Sigarda's Aid Eldritch Moon 1x Sigarda's Aid Eldritch Moon Foil 1x Simic Sky Swallower Modern Masters 2017 Edition 2x Spell Queller Eldritch Moon 1x Squadron Hawk Eternal Masters Foil 6x Sram's Expertise Aether Revolt 2x Sram, Senior Edificer Aether Revolt 2x Stoic Angel Modern Masters 2017 Edition 1x Stony Silence Innistrad 2x Stony Silence Modern Masters 2017 Edition 1x Sulfuric Vortex Eternal Masters 2x Swords to Plowshares Eternal Masters 16x Sylvan Caryatid Media Inserts 1x Temporal Mastery Avacyn Restored 1x Terminus Modern Masters 2017 Edition 1x Thalia, Guardian of Thraben Dark Ascension 2x Thalia, Heretic Cathar Eldritch Moon 20x Thalia, Heretic Cathar Promotional: Non-Release Foil 1x The Gitrog Monster Shadows over Innistrad 1x Trygon Predator Modern Masters Foil 1x Ulrich of the Krallenhorde Eldritch Moon 1x Ulrich of the Krallenhorde Eldritch Moon Foil 1x Unexpectedly Absent Commander 2013 Edition Foil 1x Venser, Shaper Savant Modern Masters 2017 Edition 1x Vesuvan Shapeshifter Time Spiral 1x Voice of Resurgence Modern Masters 2017 Edition 1x Void Eternal Masters 1x Wall of Omens Eternal Masters 2x Wee Dragonauts Eternal Masters 4x Whir of Invention Aether Revolt 1x Worldgorger Dragon Eternal Masters 1x Xenagos, God of Revels Born of the Gods 5x Active Volcano Legends 2x Aladdin Chronicles 5x Ali Baba Fourth Edition 5x Aliban's Tower Homelands 5x Ambush Homelands 5x Ambush Party Homelands 4x An-Zerrin Ruins Homelands 2x Anaba Ancestor Homelands 5x Anaba Bodyguard Homelands 5x Anaba Shaman Homelands 2x Anaba Spirit Crafter Homelands 2x Artifact Blast Antiquities 5x Atog Revised Edition 5x Battle Frenzy Ice Age 5x Beasts of Bogardan Chronicles 2x Blazing Effigy Legends 5x Blood Lust Fourth Edition 3x Chandler Homelands 2x Chaos Moon Ice Age 2x Chaoslace Fourth Edition 3x Chaoslace Revised Edition 7x Detonate Fourth Edition 1x Disintegrate Revised Edition 2x Dwarven Armorer Fallen Empires 5x Dwarven Armory Ice Age 5x Dwarven Catapult Fallen Empires 5x Dwarven Lieutenant Fallen Empires 2x Dwarven Pony Homelands 5x Dwarven Sea Clan Homelands 5x Dwarven Trader Homelands 3x Earthquake Fourth Edition 4x Eron the Relentless Homelands 1x Errantry Ice Age 5x Evaporate Homelands 5x Fire Drake Chronicles 3x Fissure Fourth Edition 2x Fissure The Dark 2x Flashfires Fourth Edition 1x Flashfires Revised Edition 1x Force of Savagery Future Sight 4x Glyph of Destruction Legends 5x Goblin Artisans Chronicles 5x Goblin Chirurgeon Fallen Empires 5x Goblin Digging Team Chronicles 2x Goblin Flotilla Fallen Empires 1x Goblin King Fourth Edition 5x Goblin Kites Fallen Empires 1x Goblin Sappers Ice Age 5x Goblin Shrine Chronicles 1x Goblin Ski Patrol Ice Age 5x Goblin Snowman Ice Age 1x Goblin Warrens Fallen Empires 5x Goblins of the Flarg Chronicles 1x Granite Gargoyle Revised Edition 5x Gray Ogre Revised Edition 2x Heart Wolf Homelands 5x Hill Giant Revised Edition 5x Hurloon Minotaur Revised Edition 2x Hurr Jackal Fourth Edition 5x Imposing Visage Ice Age 2x Inferno Fourth Edition 2x Ironclaw Curse Homelands 5x Ironclaw Orcs Fourth Edition 3x Joven Homelands 5x Karplusan Giant Ice Age 3x Karplusan Yeti Ice Age 3x Keldon Warlord Fourth Edition 2x Keldon Warlord Revised Edition 1x Kird Ape Revised Edition 2x Land's Edge Chronicles 2x Mana Clash Fourth Edition 2x Manabarbs Fourth Edition 2x Marton Stromgald Ice Age 4x Meteor Shower Ice Age 2x Mijae Djinn Revised Edition 5x Mons's Goblin Raiders Fourth Edition 5x Mountain Goat Ice Age 6x Mountain Yeti Chronicles 5x Orcish Cannoneers Ice Age 5x Orcish Captain Fallen Empires 4x Orcish Conscripts Ice Age 5x Orcish Farmer Ice Age 5x Orcish Healer Ice Age 1x Orcish Librarian Ice Age 2x Orcish Mechanics Antiquities 5x Orcish Mine Homelands 1x Orcish Oriflamme Fourth Edition 4x Orcish Oriflamme Revised Edition 6x Orcish Veteran Fallen Empires 2x Orgg Fallen Empires 3x Power Surge Fourth Edition 1x Power Surge Revised Edition 5x Primordial Ooze Chronicles 5x Pyrotechnics Classic Sixth Edition 1x Raging Bull Legends 3x Raiding Party Fallen Empires 3x Red Elemental Blast Fourth Edition 4x Retribution Homelands 3x Roc of Kher Ridges Revised Edition 5x Sabretooth Tiger Ice Age 4x Shatterstorm Revised Edition 5x Sisters of the Flame Fourth Edition 1x Smoke Fourth Edition 1x Smoke Revised Edition 1x Stone Giant Fourth Edition 4x Stone Giant Revised Edition 5x Stone Rain Fourth Edition 3x Tor Giant Ice Age 5x Tunnel Revised Edition 2x Uthden Troll Fourth Edition 3x Uthden Troll Revised Edition 5x Vertigo Ice Age 5x Wall of Dust Fourth Edition 2x Wall of Earth Legends 5x Wall of Fire Fourth Edition 2x Wall of Heat Chronicles 2x Wall of Lava Ice Age 5x Wall of Opposition Chronicles 4x Wall of Stone Revised Edition 1x Wall of Stone Unlimited Edition 3x Winter Sky Homelands 6x Abbey Gargoyles Homelands 5x Abbey Matron Homelands 5x Abu Ja'far Chronicles 5x Adarkar Unicorn Ice Age 2x Akron Legionnaire Chronicles 7x Alabaster Potion Fourth Edition 5x Amrou Kithkin Fourth Edition 5x Angry Mob Fourth Edition 4x Animate Wall Fourth Edition 5x Arctic Foxes Ice Age 5x Arenson's Aura Ice Age 2x Argivian Blacksmith Antiquities 2x Armageddon Fifth Edition 2x Armageddon Revised Edition 5x Armor of Faith Ice Age 5x Aysen Bureaucrats Homelands 3x Aysen Crusader Homelands 4x Aysen Highway Homelands 2x Balance Fourth Edition 5x Battle Cry Ice Age 2x Beast Walkers Homelands 5x Benalish Hero Revised Edition 4x Black Scarab Ice Age 5x Black Ward Revised Edition 5x Blessed Wine Ice Age 3x Blessing Revised Edition 1x Blinking Spirit Ice Age 6x Blood of the Martyr The Dark 5x Blue Scarab Ice Age 5x Blue Ward Revised Edition 3x Brainwash Fourth Edition 2x Brainwash The Dark 1x Call to Arms Ice Age 2x Caribou Range Ice Age 1x Castle Fourth Edition 4x Castle Revised Edition 2x Circle of Protection: Artifacts Fourth Edition 1x Circle of Protection: Black Fourth Edition 2x Circle of Protection: Blue Unlimited Edition 2x Circle of Protection: Green Fourth Edition 1x Circle of Protection: Red Revised Edition 2x Circle of Protection: White Revised Edition 1x Cleanse Legends 5x Cold Snap Ice Age 5x Conversion Fourth Edition 5x Cooperation Ice Age 2x Crusade Fourth Edition 3x Crusade Revised Edition 5x D'Avenant Archer Chronicles 5x Death Speakers Homelands 5x Death Ward Fourth Edition 1x Disenchant Revised Edition 5x Divine Offering Chronicles 5x Divine Transformation Fourth Edition 5x Drought Ice Age 1x Dust to Dust The Dark 3x Elder Land Wurm Fourth Edition 5x Elvish Healer Ice Age 1x Enduring Renewal Ice Age 1x Energy Storm Ice Age 5x Eye for an Eye Fifth Edition 1x Farmstead Revised Edition 5x Farrel's Mantle Fallen Empires 5x Farrel's Zealot Fallen Empires 5x Farrelite Priest Fallen Empires 1x Festival The Dark 1x Formation Ice Age 5x Fortified Area Fourth Edition 5x Fylgja Ice Age 2x General Jarkeld Ice Age 1x Glyph of Life Legends 1x Greater Realm of Preservation Legends 5x Green Scarab Ice Age 5x Green Ward Revised Edition 5x Guardian Angel Revised Edition 5x Hallowed Ground Ice Age 1x Hand of Justice Fallen Empires 5x Hazduhr the Abbot Homelands 5x Heal Ice Age 5x Healing Salve Fourth Edition 3x Heaven's Gate Legends 5x Heroism Fallen Empires 5x Hipparion Ice Age 5x Holy Armor Revised Edition 5x Holy Strength Fourth Edition 5x Icatian Infantry Fallen Empires 1x Icatian Lieutenant Fallen Empires 5x Icatian Moneychanger Fallen Empires 5x Icatian Phalanx Fallen Empires 4x Icatian Priest Fallen Empires 1x Icatian Skirmishers Fallen Empires 2x Icatian Town Fallen Empires 5x Indestructible Aura Legends 1x Island Sanctuary Fourth Edition 5x Ivory Guardians Chronicles 3x Justice Ice Age 4x Karma Revised Edition 5x Keepers of the Faith Chronicles 5x Kelsinko Ranger Ice Age 5x Kismet Fourth Edition 5x Kjeldoran Elite Guard Ice Age 5x Kjeldoran Guard Ice Age 4x Kjeldoran Knight Ice Age 3x Kjeldoran Phalanx Ice Age 3x Kjeldoran Royal Guard Ice Age 5x Kjeldoran Skycaptain Ice Age 5x Kjeldoran Skyknight Ice Age 5x Kjeldoran Warrior Ice Age 5x Lance Revised Edition 2x Leeches Homelands 2x Lightning Blow Ice Age 2x Lost Order of Jarkeld Ice Age 2x Mercenaries Ice Age 5x Mesa Pegasus Revised Edition 5x Miracle Worker The Dark 3x Morale Fourth Edition 2x Morale The Dark 2x Northern Paladin Fourth Edition 3x Northern Paladin Revised Edition 5x Order of Leitbur Fallen Empires 5x Order of the Sacred Torch Ice Age 5x Order of the White Shield Ice Age 3x Osai Vultures Fourth Edition 5x Pearled Unicorn Revised Edition 1x Petra Sphinx Chronicles 5x Piety Fourth Edition 4x Pikemen Fourth Edition 1x Pikemen The Dark 4x Prismatic Ward Ice Age 5x Prophecy Homelands 3x Purelace Fourth Edition 2x Purelace Revised Edition 5x Rally Ice Age 3x Rashka the Slayer Homelands 5x Red Scarab Ice Age 5x Red Ward Revised Edition 1x Remove Enchantments Legends 5x Repentant Blacksmith Chronicles 1x Resurrection Revised Edition 1x Reverse Damage Revised Edition 5x Reverse Polarity Revised Edition 5x Righteousness Fourth Edition 5x Sacred Boon Ice Age 5x Samite Alchemist Homelands 5x Samite Healer Revised Edition 2x Savannah Lions Fourth Edition 5x Seeker Fourth Edition 3x Seraph Ice Age 4x Serra Angel Revised Edition 2x Serra Aviary Homelands 5x Serra Bestiary Homelands 5x Serra Inquisitors Homelands 5x Serra Paladin Homelands 5x Shield Bearer Ice Age 5x Shield Wall Chronicles 1x Shield Wall Legends 5x Snow Hound Ice Age 3x Soraya the Falconer Homelands 5x Spirit Link Fourth Edition 2x Squire The Dark 5x Trade Caravan Homelands 3x Truce Homelands 5x Tundra Wolves Fourth Edition 3x Veteran Bodyguard Revised Edition 4x Visions Fourth Edition 5x Wall of Swords Revised Edition 5x War Elephant Chronicles 5x Warning Ice Age 3x White Knight Fourth Edition 2x White Knight Revised Edition 5x White Scarab Ice Age 5x White Ward Fourth Edition 5x Witch Hunter Chronicles. The item "Magic Card Collection Over 2000+++ Cards Includes Foils Rares Uncommons Myth" is in sale since Monday, January 14, 2019.
This item is in the category "Toys & Hobbies\Collectible Card Games\Magic\ The Gathering\MTG Mixed Card Lots". The seller is "bosaidan" and is located in Brownsville, Texas. This item can be shipped to United States, Canada, United Kingdom, Denmark, Romania, Slovakia, Bulgaria, Czech republic, Finland, Hungary, Latvia, Lithuania, Malta, Estonia, Australia, Greece, Portugal, Cyprus, Slovenia, Japan, China, Sweden, South Korea, Indonesia, South africa, Thailand, Belgium, France, Hong Kong, Ireland, Netherlands, Poland, Spain, Italy, Germany, Austria, Bahamas, Israel, Mexico, New Zealand, Singapore, Switzerland, Norway, Saudi arabia, Ukraine, United arab emirates, Qatar, Kuwait, Bahrain, Croatia, Malaysia, Colombia, Panama, Jamaica, Viet nam.
Set: Promo
Country/Region of Manufacture: United States
Lot Size: 20
Color: Multicolored
Features: Foil
Lot Type: Collection
Card Condition: Near Mint or better
Language: English

---