HUGE Magic the Gathering MTG Collection Mythic Rare Uncommon Foil x 2800! LOOK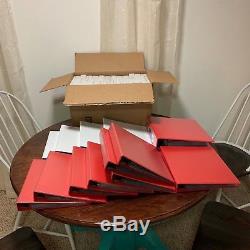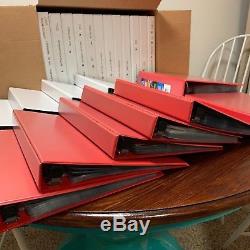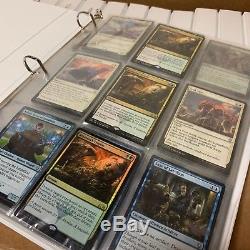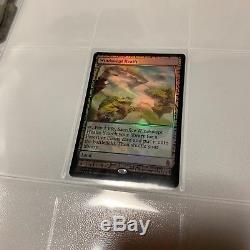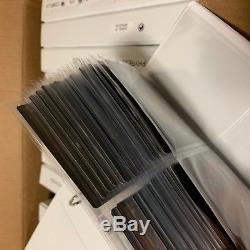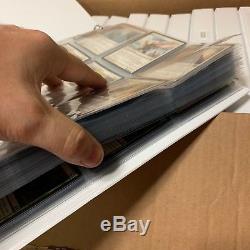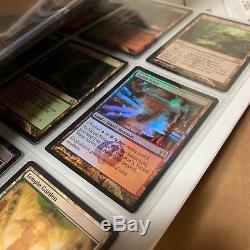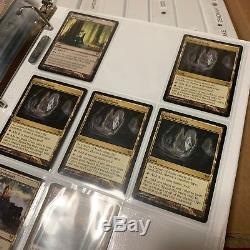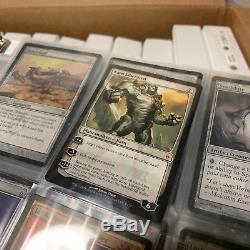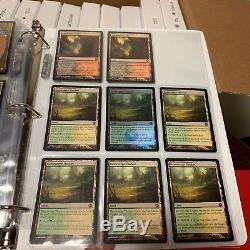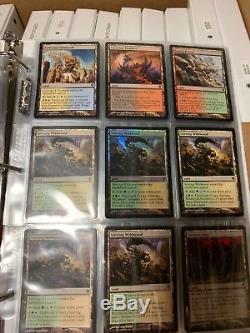 Up for sale is my Magic the Gathering (MTG) Collection. This collection consists of approximately 2800+ Cards consisting of Mythics, Rares, Uncommons and FOIL Commons ONLY!
Yes, NO BULK COMMONS HERE! With the small exception of a handful of commons from the early sets where set symbol rarity was not shown. MORE DETAILS ON THIS BELOW! This collection has taken me WEEKS to sort, organize, penny sleeve and binder accordingly. This entire collection is grouped by set, then by color, then by rarity, then by alphabetically.
But I enjoy it and so it was a blast to revisit this collection and bring back some memories. This collection ranges from Unlimited to Guilds of Ravnica. No Lottery Jackpot Alpha or Beta cards. Just a ton of really solid Uncommon, Rare and Mythics across a ton of different sets.
I went though and did a total break down from each set. Again, this is ONLY Mythics, Rares, Uncommons or Common Foils. Condition is everything when it comes to card collecting and value.
You will find that the majority of this collection will be the LP+ category with a TON of it being pack fresh. I opened a ton of booster packs my self for this collection and those cards when straight into penny sleeve and then the binder. Yes, you will find some of them in the Heavy Play category but to be honest, I would say only a couple dozen overall. None of which seemed to be the bigger valued cards, otherwise I would mention it below. Here is a break down of this collection. Total card count along with TCG Player Value from the set. I then call out some of the more standout cards from each set to give you an idea of what is included. NOTE: You will also find some of the cards from the earlier sets that are included with the lot but NOT included in the overall value depicted. This is because I didnt take the time to look every single card up to get the value and or rarity.
I just figured those were bonus to the overall collection. NOTE: There is a small amount (12 or less) of international cards. They are NOT accounted for in the totals above. I left them out of the total count but they will be included. Shalai, Voice of Plenty, Woodland Cemetery.
Kalitas, Traitor of Ghet (FOIL), Kozileks Return, Thought-Knot Seer, Hissing Quagmire. Dragonmaster Outcast, Oblivion Sower, Void Winnower, Shambling Vent.
Explosive Vegetation (FOIL), Dragonlord Atarka (FOIL), Haven of the Spirit Dragon. Soulfire Grand Master, Temporal Trespass, Flamewake Phoenix. Hardened Scales, Temur Ascendancy (FOIL), Polluted Delta, Windswept Heath.
Ajani, Mentor of Heroes, Iroas, God of Victory, Keranos, God of Storms, Mana Confluence, Godsend (FOIL). Brimaz, King of Oreskos, Temple of Plenty. Elspeth, Suns Champion, Thassa, God of the Sea, Erebos, God of the Dead, Heros Downfall, Whip of Erebos, Sylvan Cyratid, Xenagos, the Reveler, Nykthos, Shrine to Nyx. Enter the Infinite, Crypt Ghast, Prime Speaker Zegana, Sacred Foundry, Stomping Ground.
Rest in Peace, Cyclonic Rift, Ultvara Hellkite, Vandalblast, Vraska the Unseen, Supreme Verdict, Chromatic Lantern, Blood Crypt, Overgrown Tomb, Steam Vents (FOIL), Temple Garden (FOIL). Entreat the Angels, Angel of Jubilation, Cathars Crusade, Terminus, Deadeye Navigator, Exquisite Blood, Malignus, Vexing Devil, Craterhoof Behemoth, Somberwald Sage, Sigarda, Hose of Herons, Cavern of Souls (x4). Thalia, Guardian of Thraben, Geralfs Messenger, Huntmaster of the Fells, Drogskol Captain, Grafdiggers Cage. Mikaeus, the Lunarch, Champion of the Parish, Laboratory Maniac, Invisible Stalker, Army of the Damned, Bloodline Keeper, Endless Ranks of the Dead, Balefire Dragon, Garruk Relentless, Parallel Lives, Geist of Saint Traft, Grimoire of the Dead, Clifftop Retreat (FOIL), Gavony Township, Hinterland Harbor, Isolated Chapel, Sulfur Falls, Woodland Cemetery. Elesh Norn, Grand Cenobite, Norns Annex, Phyrexian Unlife, Puresteel Paladin, Phyrexian Obliterator, Sheoldred, Whispering One (FOIL), Dismember, Vorinclex, Voice of Hunger, Birthing Pod, Karn Liberated, Batterskull, Sword of War and Peace, Caged Sun, Spellskite, Unwinding Clock.
Mirran Crusader (FOIL), Consencrated Sphinx, Massacre Wurm, Black Suns Zenith, Sword of Feast and Famine, Darksteel Plate. Leonin Arbiter, True Conviction, Grand Architect, Geth, Lord of the Vault, Skithiryx, the Blight Dragon, Necrotic Ooze, Painful Quandary, Asceticism, Ezuri, Renegade Leader, Genesis Wave, Mindslayer, Sword of Body and Mind, Wurmcoil Engine (FOIL), Nim Deathmantle, Vensers Journal, Blackcleave Cliffs, Razorverge Thicket (FOIL).
Gideon Jura, Trnascendent Master, Kargan Dragonlord, Bear Umbra, Kozilek, Butcher of Truth. Admonition Angel, Stoneforge Mystic, Jace, the Mind Sculptor, Dragonmaster Outcast, Basilisk Collar, Celestial Colonnade, Raging Ravine, Stirring Wildwood (FOIL).
Ob Nixilus, the Fallen, Eldrazi Monument, Emeria, the Sky Ruin, Valakut, the Molten Pinnacle. Dragon Broodmother, Karrthus, Tyrant of Jund. Path to Exile, Nicol Bolas, Planeswalker, Progenitus (FOIL), Font of Mythos. Knight-Captain of Eos, Ajani Vengeant, Gosire, Hellkite Overlord, Sarkhan Vol. Necroskitter, Hateflayer, Balefire Liege, Overbeing of Myth. Knollspine Dragon, Mana Reflection, Prismatic Omen, Ashenmoor Liege, Oracle of Nectars, Kulrath Knight. Declaration of Naught, Notorious Throng. Maga, Traitor of Mortals, Mikokoro, Center of the Sea. Auriok Champion, Beacon of Immortality, Helm of Kaldra, Silent Arbiter.
Solemn Simulacrum, Sword of Kaldra. Urzas Power Plant (Sphere) H.
Ob Nixilis, Unshackled, Nissa, Worldwaker, Sliver Hivelord, Sliver Hive. Archangel of Thune, Galerider Sliver, Scavenging Ooze, Mutavault.
Ajani, Caller of the Pride (FOIL), Jace, Memory Adept, Omniscience, Liliana of the Dark Realms, Primoridal Hydra, Thragtusk (FOIL), Akromas Memorial, Dragonskull Summit (FOIL), Drowned Catacomb, Sunpetal Grove (FOIL). Angelic Destiny, Grand Abolisher, Visions of Beyond, Grave Titan (FOIL), Grim Lavamancer, Warstorm Surge (FOIL), Solemn Simulacrum, Dragonskull Summit, Drowned Catacomb (FOIL). Baneslayer Angel, Knight Exemplar, Jace Beleren, Grave Titan, Liliana Vess, Primeval Titan, Glacial Fortress, Sunpetal Grove.
Howling Mine, Drowned Catacomb, Rootbound Crag. Includes (2) Common Counterspell More valuable than the other Rares and Uncommons!
Strip Mine, The Rack, Pestilence, Amulet of Kroog, Library of Leng, Celestial Prism. Demonic Tutor (HP), Black Vise, Sol Ring.
Dread Summons, Pathbreaker Ibex, Eternal Witness, Mazirek, Kraul Death Priest, Meren of Clan Nel Toth, Eldrazi Monument, Lightning Greaves, Sol Ring, High Market. Inexorable Tide, Necroskitter, Comet Storm (FOIL), Creakwood Liege, Expedition Map. Stonehewer Giant, Path to Exile, Eternal Witness, Grand Arbiter Augustin IV, Sword of Fire and Ice, Sword of Light and Shadow. Alliance of Arms, Hour of Reckoning, Storm Herd, Mother of Runes, Path to Exile, Return to Dust, Attrition, Stranglehold, Hornet Queen.
Primal Vigor, Murkfiend Liege, Sol Ring, Homeward Path. Beastmaster Ascension, Stonehoof Chieftain, Thunderfoot Baloth, Ravos, Soultender (FOIL), Iroas, God of Victory, Tymna the Weaver (FOIL). Kiora, the Crashing Wave (FOIL). Sun Titan (FOIL), Winds of Rath, Beast Within. Knight of the Reliquary (FOIL). Banefire, Krenko, Mob Boss, Goblin Bombardment. Akroma, Angel of Wrath (FOIL). Wall of Omens (FOIL), Dismember (FOIL), Contagion Clasp (FOIL). Ashnods Altar, Nicol Bolas, Urzas Mine, Urzas Power Plant, Urzas Tower. This is a healthy collection in my opinion with a ton of value. With the overall trend of MTG cards inclining, this collection should only continue to rise. Especially with some of the more valuable Mythics and Rares from sets like: Avacyn Restored, Innistrad, New Phyrexia, Scars of Mirrodin etc. Its way to hard to take pictures of EVERYTHING. If you want/need any pictures of any specific cards, simply contact me and I will do my best to respond ASAP with pictures! NO, I dont anticipate getting the full TCG Player value out of these cards. Pricing is ever changing in the market and so all values were looked up by me within the last three weeks to generate this listing.
That is just the nature of the hobby. Currently, I have no interest in doing so.
If this collection doesnt sell, thats OK too. I have no problem holding onto this collection. So please, DO NOT LOW BALL ME! Which, by the way, is a SMOKE FREE and clean home I might add!
The item "HUGE Magic the Gathering MTG Collection Mythic Rare Uncommon Foil x 2800! LOOK" is in sale since Tuesday, November 6, 2018. This item is in the category "Toys & Hobbies\Collectible Card Games\Magic\ The Gathering\MTG Mixed Card Lots". The seller is "strtracer522" and is located in Oconomowoc, Wisconsin. This item can be shipped to United States.

---